More organizations and educational institutions require IELTS as a proof of English language proficiency. Meanwhile, the number of test centres have increased in numbers around the world and so do online and print resources. Since IELTS' fees are relatively high, most candidates opt for those, free or almost free, resources as an affordable study option.
Unfortunately, relying on such resources comes with a number of risks. The time and stress of manually searching and compiling information about the test, getting stuck with sample responses that may or may not demonstrate the score you are aiming for, and an endless queue of videos to watch here and there are all factors to frustration that most likely result in confusion and low scores. 
If you ever find yourself lost among the endless IELTS resources offered online and in print, you might want to consider enrolling in an IELTS prep course. A well designed prep course, like the one offered here at the Canadian Institute for Blended Learning, comes with great advantages that can save you time and money and elevate your score. 
Let's take a look at what a good prep course should include: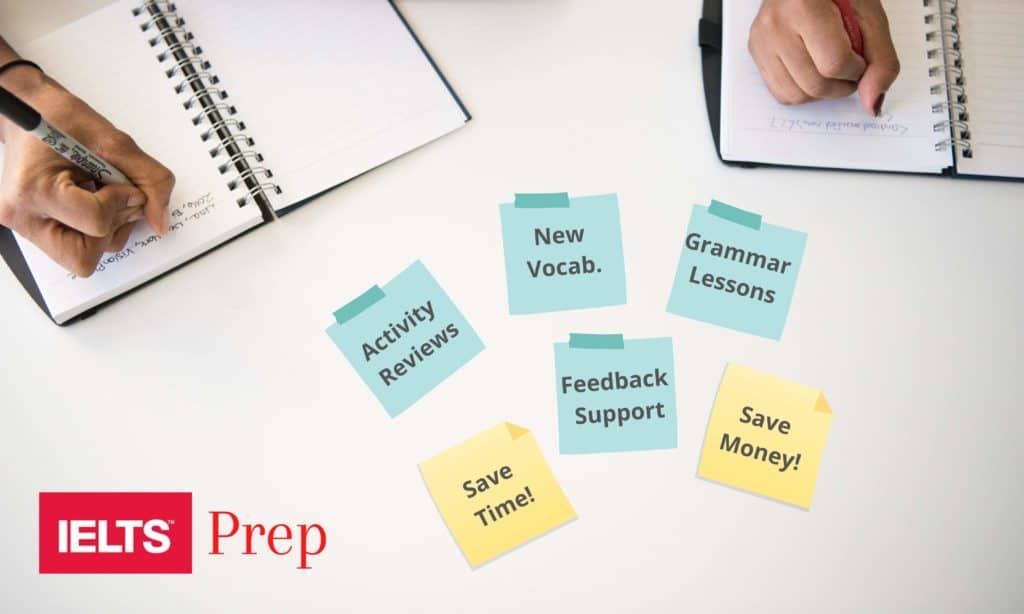 Detailed activity reviews
While it is true that taking multiple practice tests can help you with your IELTS training, your score will not be improved if you repeatedly approach the test without a strategy. You might take thousands of practice tests only to score 5 or 6 in all of them. In that case, having a higher or lower score only depends on how familiar you are with the topic in the reading or listening texts. This is where a program with detailed activity reviews comes in handy. As you go over every task's review, you will become aware of your mistakes, why you made them, and how to avoid them. Reviews can teach you a variety of strategies from which you can choose the ones that match your abilities and strengths. 
Relevant grammar lessons
A critical part of the IELTS scoring system evaluates your control over the language and your ability to use a variety of language structures to deliver precise and meaningful sentences. Therefore, we highly recommend a program with extensive grammar practice that is directly related to the IELTS exam questions. Whether it's a piece of reading you are trying to understand, a speaking question you need to promptly respond to, or a letter that you need to write, using correct grammatical structures is a must if you plan to score higher than 6 on the speaking or writing sections. 
Vocabulary
It is absolutely normal to feel more confident talking about familiar topics in English. On the other hand, you can't choose the topic you want to talk or write about on the IELTS exam. For that reason, it's important that you familiarize yourself with advanced vocabulary words related to IELTS themes. A program that offers practice with these topics will help expand your vocabulary strategically. Use new vocabulary daily, so you are able to use them spontaneously on the test. 
Feedback and Support
Understanding your mistakes and trying to fix them is, for most, is the best learning approach. However, it's not easy to achieve this alone. Always look for a program with instructional support. As you practice for your IELTS test, you need a teacher that can guide you, point out your mistakes, and give you a chance to fix them by yourself. 
In conclusion, an IELTS prep course that includes all of the above can save you time and money because you will not be spending hours looking for resources online and feeling lost. When all the resources you need are in one place, you can focus on what is important to you, and your language skills will significantly improve. As a result, you will get the score you want, and you won't need to repeat the test and pay the expensive fees again.