Reveal Your Language Skills When Applying for a Job in Canada
Diversity is encouraged in Canada, and professionals from all over the world are welcomed into the Canadian workforce. While your are expected to be profiecient at your job and have knowledge of the industry you are applying to work in, it's important that you demonstrate outstanding language skills that will eliminate any doubts your employer may have about your ability to communicate effectively. Therefore, it is extremely critical that you enhance your language skills in order to be a successful candidate in the competitive job application process.
If you are not sure where to start, try the tips below.
1. Prepare for the IELTS exam
If you are trying to secure a job offer in Canada, your first step should be achieving a high score on a language proficiency test. You might have already applied for the IELTS exam for immigration purposes, but if you are not happy with your score, do not be discouraged. Good preparation should get you a higher score. We encourage you to try our IELTS Intermediate course which features an inclusive overview of the exam and thousands of practice activities, tips, and tricks. It also features important aspects of North American culture relating to a variety of subjects.
Consider any language training you pursue as a future investment since the results will remain effective beyond your test score. For example, to successfully score high in the IELTS exam, you need to have a considerable amount of complex vocabulary words for a variety of topics that you can easily retain and incorporate into your speech. You also need a good understanding of English grammar which lets you control the language easily as you jump from one topic to another. Once practiced adequately, this type of knowledge will help you perform better beyond the test event.
"The language you are learning to score high in the IELTS exam will help you communicate better at your new job in Canada."
2. Learn trade specific phrases
One thing to keep in mind about IELTS is that it prepares you for general daily interactions. Besides having a good control over the language, you need to impress your potential employers with some native expressions related to the field you are applying for. Your good IELTS score will not rank you high in an interview if you are not familiar with the language corpus of your trade.
For example, if you are an IT professional with ten years of experience from a non-English-speaking country, preparing for IELTS itself is not expose you to the specific langauge used colloquially in your industry. In a job interview, employersor skilled HR representatives will ask questions related to detailed IT responsibilities. These will be unlike the general questions you had to answer during your IELTS exam. If you were not able to explain specific duties and share past experiences using the language they expect to hear, you would simply not get the job.
Before applying for a job, make sure you:
investigate corpora related to your profession, and identify words and phrases related to your experience.
list all your job duties and achievements, and practice talking about them using the words and phrases you have learned.
repeat this practice daily until you are able to retain the new vocabulary words naturally without pausing.
3. Learn some Canadian idioms
Idioms are expressions used in precise situations. Idioms are often used by native speakers naturally and are usually considered a sign of fluency when used by non-native speakers, even if the listener only picks up on this subtly.
Using idioms is mainly helpful in a job interview since they are not commonly used in a cover letter or a resume. Look for idioms that you can use during your interview and memorise a couple of them, but make sure you do not over use them.
Idioms help you describe specific situations and feelings using the least amount of words. They also enrich your language and make you sound like a native speaker. Furthermore, they make you feel more confident when communicating with others.
Examples:
Corner the market: use when describing a company that dominates a particular industry or niche.
In a nutshell: use to introduce a summary.
Safe bet: describes something that is a sure thing.
Brick-and-mortar: describes a business that is well established but less flexible. A bricks and clicks company refers to one that meets both descriptions.
Around the clock: means working 24 hours, without stopping
Think outside the box: refers to having creative solutions, instead of common ones.
4. Complete your resume
A resume is more than just a compilation of your education and work experience. The way you design your resume and present your experience indicates a lot about your personal and professional aptitudes.
Here are some important considerations for creating your resume:
Make sure you follow the resume conventions of the country you are applying in. A Canadian resume, for example, looks much different than a resume used in The United Arab Emirates. By doing so, you will indicate that you are aware of Canadian working culture.
When writing your job descriptions, focus on what you have achieved, not what you have done. Only list the most important responsibilities that are directly related to the job you are applying for. Let's take the IT example again. Compare the descriptions below of an IT specialist work experience. Which one do you think is more effective in a resume?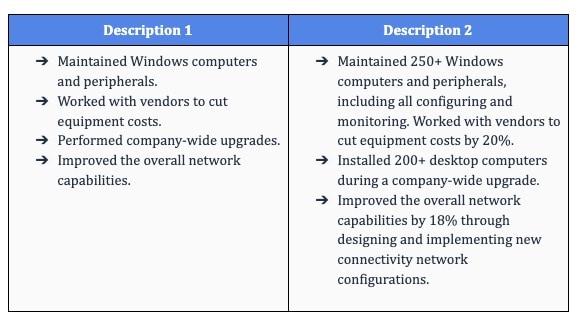 If you are not familiar with the language used to describe your job duties in English, explore your career through Canada Job Bank "Explore a Career" service, and read the skills section to find specific phrases and terminologies used to describe your duties.
Never include something in your resume that you haven't actually done. This would create a big embarrassment later if you were asked to talk about it in the interview.
Make sure that your resume is free of spelling and grammar errors.
5. Write a cover letter
Your cover letter is the first thing the employer is going to look at in the application process. If your cover letter is written poorly, your resume will be overlooked. Use the cover letter to highlight work experiences that directly relate to the job you are applying for. It also gives you the chance to describe how hiring you is a smart decision.
Here are some things to consider when preparing your cover letter:
Your cover letter should not be longer than three paragraphs.
Use the personal pronoun "I" when describing outstanding professional and interpersonal skills.
Match the items discussed in your cover letter with the job requirements. For example, if having a membership with a specific association is required, mention how you will achieve this.
Invest some time searching the company's history and mission statement. In the last paragraph show how excited you are to work in the company and relate the reasons to the company's mission statement.
End your cover letter with a professional closure (e.g, Sincerely, Best regards).
Always sign your cover letter.
Make sure your cover letter is free of spelling and grammar mistakes.
6. Ace your video interview
It's a great accomplishment to get a job interview; it means that you have succeeded in presenting yourself to the employer through your cover letter and resume. Now, it's time to impress the employer and receive a job offer. Remember that the employer has already believed that you might be the perfect candidate according to your resume, and the last thing you want is a disappointed employer at the end of the interview.
Like every other step in the application process, you need to be well-prepared before attending an interview. Preparing for the interview helps you present your actual self while being relaxed and confident.
"The employer is as excited as you are to meet a successful candidate."
Here are some tips you might want to take into consideration when preparing for a job interview:
Research as much informaiton as you can about the company because you will most likely be asked "why are you interested in working for our company?" Be prepared to answer this question confidently with actual facts.
Review the terminologies and idioms that you have prepared and make sure you know how to use them.
Prepare a one minute speech responding to the request: "tell me about yourself." Exclude overly personal information (like family history, country, religion, spiritual beliefs, number of children, etc.). Instead, focus on your education, work experience, and professional and personal qualities.
Make a list of your strengths and weaknesses that are directly related to the job. Practice talking about them with detailed examples. Yes, you do need to describe the details if the employer asks you to elaborate on a specific claim. For example, if you say that one of your weaknesses is handling stress, you should be ready to follow up with an example of the type of scenario that you find challenging.
Prepare a list of some personal interests and practice talking about them. Canadian employers also like to get an idea of your personality, inaddition to skills. Pick the one you enjoy the most and talk in detail. Make sure, however, to keep your professional tone while doing so.
Always have a list of questions ready to ask your interviewers during and at the end of the interview. After all, the interview is a two-way discussion, and the atmosphere should be natural and friendly.
Since most job interviews, nowadays, are conducted virtually, here are some important things to consider:
Be punctual. Never arrive or log into the meeting late.
Make sure you sit in a bright room with a simple background.
Dress up professionally for the interview from top to bottom. In other words, do not wear a dress shirt with pyjama pants.
Maintaining eye contact is a very important gesture in a job interview. Virtually, most interviewees fail to achieve this because they look at the interviewer on the screen. To achieve good eye contact, you must look directly at the camera when answering questions. You do not have to stare at the computer camera the whole time, but make sure you do when it's your turn to talk.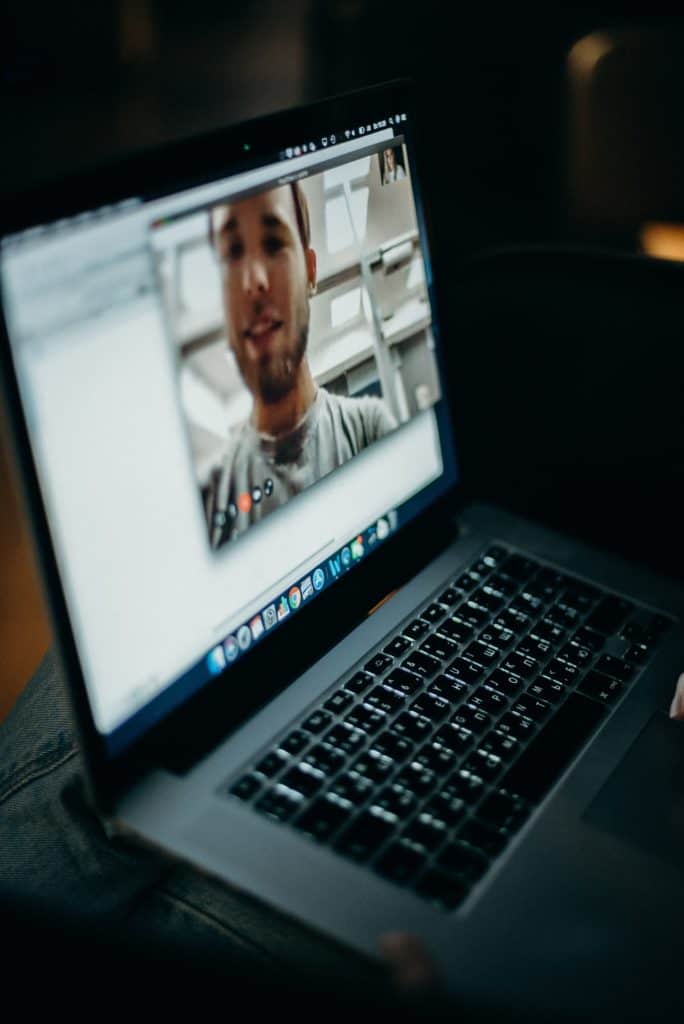 In conclusion, securing a job in Canada requires an investment to improve your language and communication skills. The more time you put into each step described above, the more confident you will become. This confidence you gained will reflect on your speech and performance in a job interview and will help you be the successful candidate.